Why Do People Love the NFL Draft So Much?
It's the 3-day event that keeps sports fanatics in constant anticipation and filled with exhilaration. Dressed in their favorite team's colors, people watch a well-dressed man read a name off a card in hopes that name will make their favorite team even greater. Ironically, it's really not a sporting event at all. It's the NFL Draft.
The general concept of the NFL Draft is where professional teams take turns selecting players from the college rank. The NFL Draft's popularity has increased dramatically since its debut in 1936.  From solely being broadcasted in hotel ballrooms in the 1990s, to 2014 producing a record of 45.7 million viewers from across the country.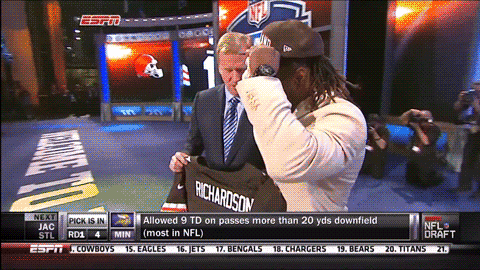 The popularity of the draft helps prepare the athletes for their future in the NFL; following on behavior, finance, marketing, turning the transition from college athletics to NFL athletics.
So why do sports fans go into a frenzy over this event? A Philadelphia media psychologist explains,
 "It's a product of armies of PR people who want to keep fans engaged throughout the offseason," said Michael Broder
Essentially, people love football, and even when the sport is out of season, fans want to stay connected. The media responds and creates what I call the "offseason Superbowl". All the advertisements, viewers, and excitement without the actual sport. So with all this fun, where is the money behind this event?
The NFL Draft's economic impact…
After being held in New York City for 50 years, the 2015 NFL Draft was brought to Chicago, IL. The event brought 200,000 visitors to the city over the 3-day event, and Chicago's economy boomed.
In 2016, the draft drove plenty of business to local hotels and created more than 2,000 temporary jobs and more than 800 permanent jobs in Chicago.
The city of Philadelphia released a statement that it will be the 2017 host of the NFL draft. It is estimated that the city could see an economic impact of more than $80 million dollars for the region.
So, it's clear that the NFL draft positively impacts its host cities, but how does it affect the nation's economy?
Like all highly publicized events, the NFL Draft is sponsored by many companies, which means it's loaded with advertisements. The draft is now viewed as a "tentpole event" where companies can directly connect their brands to the country's most-popular sports league.
.
Companies who advertise their products during the NFL Draft automatically see profits rise.
The NFL Draft isn't just an offseason sports event, it's an economic goldmine.
Sources:
How the NFL Turned Its Draft Into the 'McRib' of Sporting Events